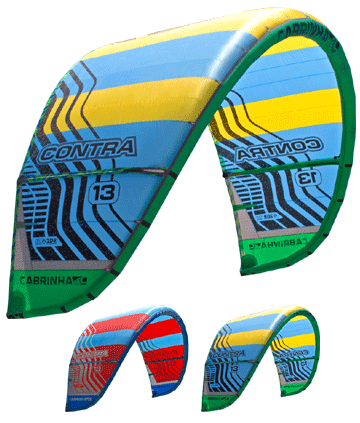 Contra Performance Lightwind Kite Only
Your choices are:
---
Contra Performance Lightwind Kite Only
Contra Performance Lightwind Kite Only
Performance Lightwind
Sizes:
13 / 15 / 17 / 19
Rider Profile:
Perfect for all riders that want to extend their game into the lightwind arena with a responsive, lightwind kite.
Design Profile:
3 Strut, Hybrid design, Sleek wing tips, Draft forward profile
The Contra is a three strut light wind kite, designed to optimize low-end power while retaining the finesse that keeps this kite fun to fly. The high aspect ratio maximizes power production and makes generating power and speed a snap. Our trademark depower-on-demand makes managing this power effortless, allowing it to execute sharp and precise turns. Tuned to deliver the type of performance that will widen the scope of what you can do in light winds, the Contra has the power to get you up and riding when the winds are barely showing signs on the water. For 2017 we added pure profile panels to and brought the struts closer to the center to increase canopy support.
Features & Benefits:
Perfect lightwind extension to your quiver
Pure Profile Panels for a better supported canopy
Easy park and ride power
Featherweight control
Works well with any board in your quiver
Easy relaunch
Contra Performance Lightwind Kite Only
Cabrinha Kites
---
---