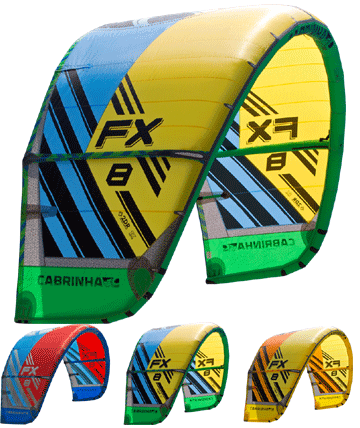 FX2 Big Air Freestyle Kite Only
Your choices are:
---
FX2 Big Air Freestyle Kite Only
FX Big Air/Freestyle Kite Only
Sizes:
7 / 8 / 9 / 11 / 13
Rider Profile:
For riders that mix hooked and unhooked freestyle tricks, love huge jumps & kite loops.
Design Profile:
3 Strut, Modified C shape arc, Box wing tip design, Lean entry profile
Exploding on to the scene in 2016 the FX catapulted to the top of the freestyle crossover market. The highly responsive platform gives you power for explosive pop, and the perfect amount of boost for huge lofty airs. The modified C shape arc allows you to throw aggressive kiteloops, with the ability for the kite to hit the apex before transitioning into a soft landing. The pulley-less bridle is short and tight, increasing reactivity and user feedback. Its lightning fast turning speed, direct steering, and quick relaunch make it perfect for intermediate to highly advanced riders. The FX kite effortlessly bridges the gap between freestyle and freeride to create the perfect crossover kite.
Features & Benefits:
Explosive pop and great hang time
Great line slack for unhooked riding
Forward pull for kiteloops
Excellent for vertical boosts
Highly responsive & direct steering
Smooth power delivery
More drive than a traditional C-shaped kite
Predictable handling
Quick recovery
Good upwind performance
FX2 Big Air/Freestyle Kite Only
Cabrinha Kites
---
---