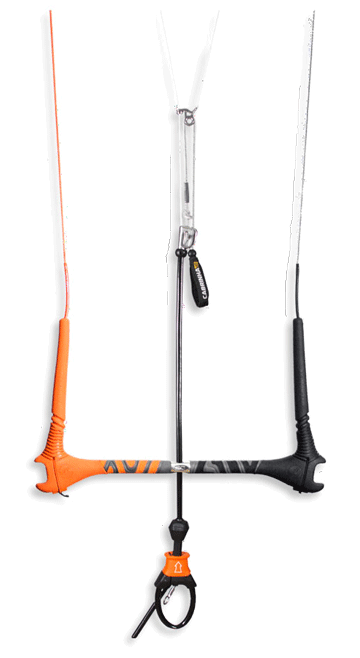 Overdrive 1X Kite Bar with Trimlite and Quickloop
$ 549.00
Your choices are:
---
Overdrive 1X Kite Bar with Trimlite and Quickloop
Overdrive 1X Kite Bar with Trimlite + Quickloop
Sizes:
STANDARD (Adjusts 48-56cm)
Overdrive 1X TrimLite w/ QuickLoop
Our premium adjustable control system can quickly change the length of your bar from 48cm to 56cm. The Overdrive mode increases the turning speed and performance of any kite large or small. The customized compact stainless steel TrimLite cleat allows precise and positive trim adjustment. The lightweight design has an elasticized trim line, an internalized mainline, and landing lines protected with multicore tubing to give you the bare essentials with perfect balance and trim to match the changing wind conditions. The Overdrive 1X control system features our 1x security system and is available with the Fireball or QuickLoop connection methods. Both methods meet our stringent quality standards that you've come to expect. Each one is built for specific functions, the utmost being whether you ride hooked in or predominantly unhooked.
Features & Benefits:
OVERDRIVE
Maximum turning speed available with 8cm of adjustment on the fly
Comfortable midsize grip
Two Piece Spinning handle
Push away quick release
TRIMLITE
Simple and clean trim system
Durable stainless steel cleat
Integrated bungee to reduce tail flop
QUICKLOOP
Works great for unhooked maneuvers
Quick and easy QR operation
Simple 1X security activation and reset
Removable centralized security pin
Overdrive 1X Kite Bar with Trimlite and Quickloop
Cabrinha Kites
---
---