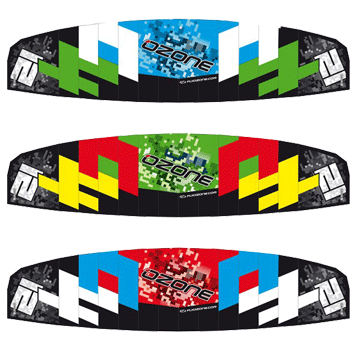 C4 Inflatable Kite Complete
Your choices are:
---
C4 Inflatable Kite Complete
C4 Inflatable Kite
The Ozone C4 is all about making new school freestyle accessible and fun. It is designed with no compromises, fulfilling top freestylers needs, whilst maintaining an easy to ride feel keeping the rider comfortable in all conditions.
New this season is a modified planform and arc to help reduce the heavy tow feeling than can occur on C-kites when over-powered. Profile thicknesses have been refined aiding kite stability during unhooked maneuvers, the C4s pop and drop reactivity is now more user friendly and accessible to intermediate riders.
The Variable Bridle Geometry settings give the option of two kites in one and takes only a short moment to change with no lines to add or remove. These two settings boast advanced unhooked attributes as well as comfort and easy to reach performance.
New School - The C4 ships standard on this setting, offering a heavier and direct feel, with a more powerful load up and pop perfectly suited to Freestyle and Wakestyle riders.
Free Ride - The Freeride setting offers a lighter bar feel and increased de-power which is ideal for Freeriding and also in the waves. To use this setting simply shift the middle bridle lines to the pigtail knot closest to the leading edge.
New 6m and 14m sizes have been added for this season. We refined the 6m to have both high and low end advantages over the previous 5m in similar wind conditions. The 14m is designed to bridge the gap between the previous 13m and 15m with solid low end grunt and high end control.
Design and Performance Features:
4-line pulley-less system (no pulleys, no problems).
Variable Bridle Geometry - New School (standard) & Free Ride settings.
Modified planform and arc reducing tow feeling.
Refined profile thicknesses aiding kite stability.
Explosive pop and hang time.
Easy back line re-launch.
Comparable feeling throughout the size range.
One-Pump system for quick and easy setup.
High volume inflate/deflate valve.
Multiple trimming options for customized handling and bar pressure.
Color coded and numbered fool proof line connectors.
Construction Features:
Exceptional hand checked Ozone fac
tory construction using the highest quality
materials. Teijin Techno Force sail material. Dimension Polyant Dacron for the LE & Struts.
Internal reinforcements for improved durability.
Double stitched bonded seams.
Dacron reinforced tip area for load distribution.
Reinforced leading edge and struts in high stress areas.
Reinforced trailing edge.
Light weight & low profile aerodynamic leading edge scuff pads.
Unique bladder construction with double layer section in wear areas.
C4 Inflatable Kite Complete
Ozone Kites
---
---