Access V7 Ozone Snowkite
Your choices are:
---
Access V7 Ozone Snowkite
The Access V6 is our entry level de-powerable foil kite that has been designed to make the learning process of snowkiting as safe and easy as possible.
The Access V6 brings unsurpassed ease of use and superior safety to the snowkite world; it is simply the best choice for new Snowkite enthusiasts. It is the same kite design as the 2015 model, with refinement to the Internal Re-Ride Release System.
The design goal of this kite is to allow total new comers to enjoy this sport from their very first session. We have made this possible by creating an incredibly stable kite, which has a constant pull and a large wind range. If you are new to the sport or an occasional snowkiter, the Access V6 is the kite you need to learn the basics of Snowkiting and progress to find out what this incredible sport can offer. This has helped to make the Access V6 a great teaching tool, which is why it has become the kite of choice for top snowkite schools around the globe.
The design of this already classic kite has more stability even at low angles of attack due to a specifically created profile. The progressive arc means that the kite is rock solid in the air and maintains a quick turning speed with responsive bar feeling. The low aspect ratio ensures stability in the gustiest of conditions, delivering constant power and progressive pull.
Even though the Access V6 is developed for teaching and entry level riders it has become a favorite for experienced riders who require ultra stability in turbulent high mountain conditions. Most of our International team riders keep a 4m or a 6m in their quiver and would not be caught without it for those trips to the mountains. The Access V6 is also a favorite for expeditions where it is essential to have safe and easy to use kites in extreme conditions.
Tech Specs:
Entry level de-power foil.
Stable and predictable.
The kite of choice for new comers and snowkite schools.
Unsurpassed ease of use.
Industry Leading Re-Ride Release System - looses all power in the kite and ready to ride after activating again.
Great feeling through the bar with direct handling which is vital for beginners.
Specific profile to increase stability and low end power to provide more pull in lighter winds.
Planform with an increased arc to improve handling and the turning speed.
Simple bridle line configuration reducing parasitic drag to increase light wind performance.
Blow-out-valves on the under surface help avoid damage if the kite is crashed.
Velcro openings in the tip to remove debris and snow.
Double pulley speed-system with high spec Ronstan Orbit ball bearing pulleys.
High quality, easy to use backpack with loads of volume.
Exceptional hand checked Ozone factory construction using the highest quality materials.
Contact Access Control System with 500kg front/300kg back lines, and Brake Stall handle to land and re-launch the kite with ease.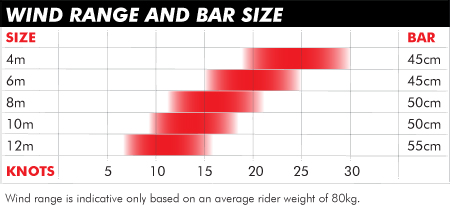 Access V7 Ozone Snowkite
Ozone Kites
---
---