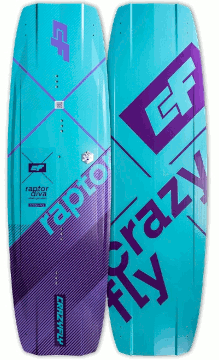 CrazyFly Girls 2018 Kiteboard
Regular: $ 800.00
On Sale! $ 745.00

Your choices are:
---
CrazyFly Girls 2018 Kiteboard
CrazyFly Girls 2018 Kiteboard
This is love
Comfort, style and performance are the building blocks for a functional girl-specific board. Our Girl's board has always been specially designed for girls - with an appropriate construction and proper adjustments to suit the needs of girl kitesurfers.
For 2018 the Crazyfly Girls board benefits from Multi Channel bottom shape and Concave Tips, which provide unmatched upwind perfomance and increase the overall all-round abilities of the board. The Step Cap deck technology allows for thinner rails and sharper edging.
The Girls board is a very comfortable freeride board customized for the ladies. Not only the graphics, but also the construction, insert positions and straps are all customized for girls.
Construction-wise we source the finest selection of tip-to-tip CNC Shaped Wood Core, Multi Axial Fiber Glass and Light Up side walls to create a great balance of flex, stiffness and pop. A slightly softer flex pattern provides smooth and comfortable riding, soft landings and eats up chop very well.
The Girls board is designed for intermediate to advanced riders looking for a comfortable freeride board with enough pop to nail tricks.
The Girls board works best with brand new Hexa Bindings S-size for unmatched comfort and board feel. The Girls board is also compatible with wake bindings.
The 2018 Girls – this is love.
The Girl&'s comes Deck Only with 5cm Razor fins, handle, and hardware or Complete with Hexa Bindings, 5cm Razor fins, handle, and hardware.
Features:
Soft Flex - Amazing comfort and softness offered at the cost of pop. Softer boards provide more comfort than pop.
Multi Channel Bottom - The new Multi Channel Bottom are two separate U concave channels running only in the center section of the board while the tips of the board have a different shape. The Multi Channel Bottom provides great comfort, upwind and softest possible landings.
Progressive Flex Technology - Flex on the board increases from the center towards the tips. This technology provides natural flex of the whole board and balanced pop. Great pop - You can still squeeze great amounts of pop from this board, even though it is not the pop machine.
Concave Tip - The new Concave Tip provides for smooth carving and softest possible landings.
Multiaxial Fiber Glass - Due to multiaxial fibers the board has more flex in torsion and still remains very strong, as the fibers reinforce the board in multiple directions.
CNC Shaped Wood Core - Core is one of the most essential elements in every kiteboard, therefore we choose only the finest selection wood cores for all CrazyFly kiteboards. To have precisely shaped cores of highest quality, we are using a CNC machine to cut the outline and drill holes of all cores.
Custom Wood Construction - This year Girls has a brand new custom wood core and only specially selected pieces of wood can be used for the Girls cores.
Light Up Sidewalls - Yet another innovation from CrazyFly designers on all twin tip boards. The Light Up rails are transparent and literally light up when the sun shines in. These high-tech urethane side walls are a synergy of two polymers directly bonded with the wood core. As a result, Synergy side walls have extremely high impact and abrasive resistance. Due to our innovative production process, Synergy side walls are second to none when it comes to durability and performance on the water.
Razor fins - These fins are Razor sharp. We have designed them with very thin profile to cut easily through water, prevent drag and make the boards faster.
Hexa Binding - The Hexa Binding provides unlimited adjustability to accommodate all foot shapes and sizes while offering unmatched comfort and board feel.
Wake Binding Compatible - These boards are fully compatible with wake bindings and all other 6 inch (15,24 cm) pad and strap systems.
SIZE:
132x41
135x41
WEIGHT:
2.5 kg
2.7 kg
STIFFNESS:
540
550
STANCE:
38 / 42 / 46 CM
15 / 16.5 / 18.0 INCH
(wake binding compatible)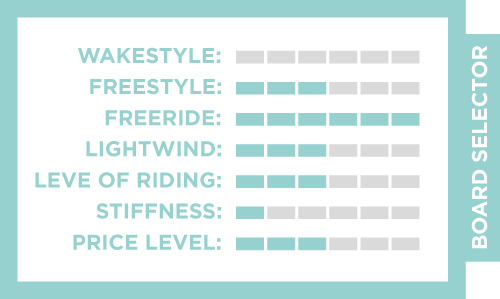 CrazyFly Girls 2018 Kiteboard
CrazyFly
---
---