Crazyfly Chill Foil Deck
$ 699.00
Your choices are:
---
Crazyfly Chill Foil Deck
Crazyfly Chill - Allround Foiling
Chill is an easy to ride low volume allround foil board suitable for beginners and intermediate riders. With its compact size, high nose, and speed rocker, it provides good surface area for early planning and will get you up on the foil in no time. Concave deck provides easy handling of the board while the full deck footpad comes in handy for traction and safety during wipeouts. The Chill has a brand new layup featuring triaxial 45 Eglass for increased strenght and central carbon fiber stringers to increase the dynamics of transferring energy into the foil. Packed with all great features, who needs more to go foiling and Chill.
Sizes:
115 x 44 | 130 x 46
Key Features:
Low volume allround foil board
New 45 Eglass construction
High nose, speed rocker
Concave deck
Easy to ride
Design Features:
Full deck footpad - Comfortable and safe - All our foil boards come with a full deck footpad installed. It comes in handy for traction and safety during wipeouts. Thanks to our unique foil mounting system, there are no screws sticking out on the deck either. Just a nice comfy pad all the way.
Triaxial 45 Eglass - Three times stronger - The Triaxial 45 Eglass supports the board in three directions making it three times stronger. By strategic placement of this material, we were able to achieve higher torsional stiffness without increasing stiffness along the length of the board. This results in a much more responsive, and overall stronger board with comfortable flex.
CNC Wood Shaped Core - Core is one of the most essential elements in every kiteboard. Therefore, we choose only the finest selection wood cores for all CrazyFly kiteboards. To have precisely shaped cores of the highest quality, we are using a CNC machine to cut the outline, drill holes, and give various 3D shapes on all cores.
High nose - No dips - The high nose on foil boards helps when you are trying to lift the board up from the water, as the nose does not get dipped in small chop. Also when you are already up on the foil and unwantedly lower the nose of the board, you have a much higher chance to recover with a high nose board shape.
Central carbon stringers - Strength and dynamic feel - Central carbon stringers on the deck and bottom give our foil boards much more strength and a very dynamic feel. The board feels sturdy and is extremely responsive to input from the rider.
Insert foil mount tech - Quick and easy - This unique foil to board mounting tech allows for quick and easy installation of the foil. The screws do not go through the board. Instead, there are closed top inserts, so mounting the foil is as easy as it can be with just four screws. Thanks to our innovative foil mounting system, there are no screws sticking out on the deck either. Just a nice comfy pad all the way.
Concave deck - Easy control - All our foil boarsd have a concave deck. It provides easy handling and control over the foil board and also helps during jibes.
Multiaxial Fiber Glass - Support and strength in every direction. - Due to multiaxial fibers the board has more flex in torsion and still remains very strong, as the fibers reinforce the board in multiple directions.
Specs:
SIZE: 115 x 44 130 x 46
WEIGHT:
(includes deck footpads) 2.90 kg 3.30 kg
Mast base plate hole spacing: 165 x 90 mm
Please take extra care when using other than CrazyFly foil.
Screws must not go into the insert more than 5,5 mm.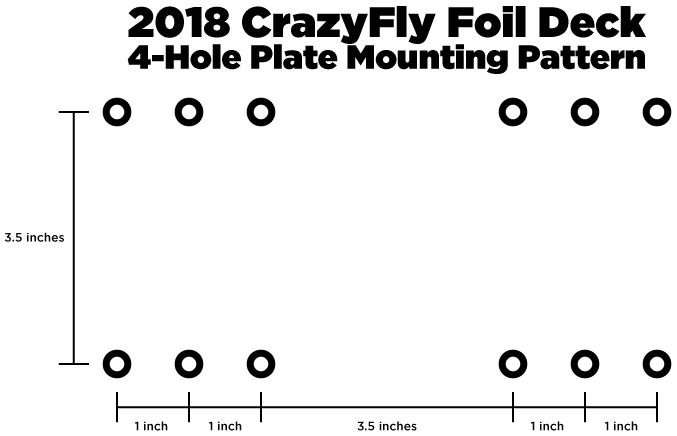 Crazyfly Chill Foil Deck
CrazyFly
---
---