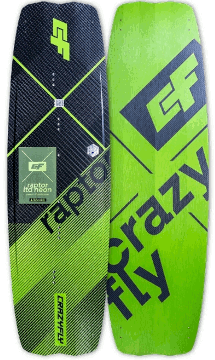 Crazyfly Raptor LTD 2017
Regular: $ 924.00
On Sale! $ 795.00

Your choices are:
---
Crazyfly Raptor LTD 2017
Crazyfly Raptor LTD 2017
Limited series, unlimited performance
The CrazyFly Raptor LTD is a high performance freeride/freestyle board for intermediate to expert riders.
This board does not need much introduction. The Raptor LTD is one of the best boards we have ever made.
It is extremely light, full carbon masterpiece, with Gullwing Double Concave Channels. Buttery soft in chop, yet dynamic for high end freeride and freestyle. The full carbon construction provides loads of pop while the shape gives the board that smooth feel we all enjoy.
For 2017, we introduced a brand new Nano Glide Skin on the bottom of the board. The micro channels in the skin help the board track and go upwind better. The skin has better gliding properties and generates speed quicker, plus it is more resistant to scratches. The top of the board has a brand new matt overprint for that eye-catching, premium look.
The Raptor LTD works best with Hexa LTD Bindings for unmatched comfort and board feel.
The Raptor LTD is also compatible with wake bindings.
The 2017 Raptor LTD – limited series, unlimited performance.
The Raptor LTD comes Deck Only with 5cm Razor fins, handle, and hardware or Complete with LTD Hexa Bindings, 5cm Razor fins, handle, and hardware.
SIZE: 132x41 136x41 140x42
WEIGHT: 2.1 kg 2.3 kg 2.4 kg
STIFFNESS: 790 750 720
STANCE: 38 / 42 / 46 CM
15 / 16.5 / 18.0 INCH
Features
Medium Flex - Provides enough comfort and extra bits of performance.
Gullwing Double Concave - Gullwing Double concave shape provides amazing control for cutting powered turns and everyone can feel like a Pro in making transitions. This shape offers much more grip for upwind, difficult landings and generates more power when loading up a jump. The Gullwing Double concave shape is the ultimate chop eater.
Vibra Kill - Vibra Kill is a brand new top secret technology developed by CrazyFly. This system damps the shocks from landing in water, as well as vibrations of the board during riding. It makes the ride smoother and saves your knees.
Loads of pop - These boards provide extra loads of pop to pull off tricks.
Full Carbon Construction - Based on our thirteen years of experience in building high quality kiteboards with top performance, we simply believe that carbon fibers are irreplaceable. Carbon fibers are ultra light and at the same time extremely strong. This material is very dynamic and it returns instantly to its original shape after being stressed, which provides loads of pop in carbon fiber boards.
CNC Shaped Wood Core - Core is one of the most essential elements in every kiteboard, therefore we choose only the finest selection wood cores for all CrazyFly kiteboards. To have precisely shaped cores of highest quality, we are using a CNC machine to cut the outline and drill holes of all cores.
Light Up Sidewalls - Yet another innovation from CrazyFly designers on all twin tip boards. The Light Up rails are transparent and literally light up when the sun shines in. These high-tech urethane side walls are a synergy of two polymers directly bonded with the wood core. As a result, Synergy side walls have extremely high impact and abrasive resistance. Due to our innovative production process, Synergy side walls are second to none when it comes to durability and performance on the water.
Razor fins - These fins are Razor sharp. We have designed them with very thin profile to cut easily through water, prevent drag and make the boards faster.
Hexa Binding - The Hexa Binding provides unlimited adjustability to accommodate all foot shapes and sizes while offering unmatched comfort and board feel.
Wake Binding Compatible - These boards are fully compatible with wake bindings and all other 6 inch (15,24 cm) pad and strap systems
Crazyfly Raptor LTD 2017
CrazyFly
---
---