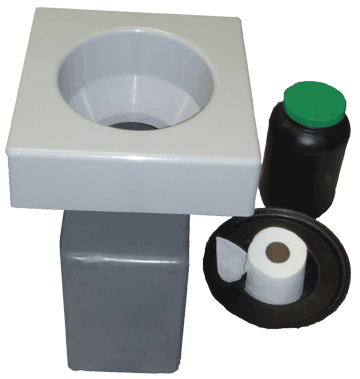 Eco Safe - Complete Toilet System w Square Seat
Regular: $ 199.95
On Sale! $ 179.95

Your choices are:
---
Eco Safe - Complete Toilet System w Square Seat
This toilet system is designed to fit into a 20mm ammobox and should not be used as a stand alone toilet. Its Cubical shape saves 20% of the space required by round bucket type toilet systems. The complete system includes a 5.5 gal. tank, new square seat with tp holder, wash out kit for flushing, pressure relief vent, and buttress threaded, gasketed closures. Meets BLM, NPS, and USFS requirments for washable and reusable toilet systems.
The new seat and lid/tp holder have the following benefits:
1. One piece design is much stronger yet lighter than a commercial seat
2. Deep funnel design makes for better drainage into tank and easier cleaning
3. Lid/tp holder seals better thus easing smell and bug problems
4. Lid/tp holder conveniently keeps tp off the ground when system is in use
5. Fits inside of a rocket box.
6. Size 13.25" square and 6" tall
Toilet Paper is not included.
20mm ammobox is not included.
Eco Safe - Complete Toilet System w Square Seat
Pacific River Supply
---
---