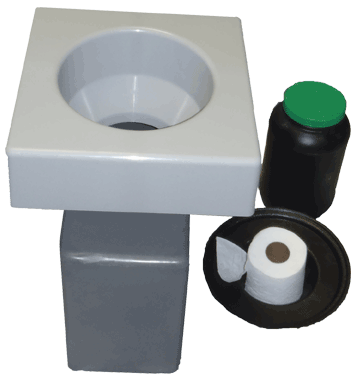 Eco Safe - Complete Toilet System w Square Seat
Regular: $ 210.95
On Sale! $ 199.95

Your choices are:
---
Eco Safe - Complete Toilet System w Square Seat
The Eco-Safe Toilet System is designed to fit into a 20 mm rocketbox but can also be used as a stand alone toilet. Its cubical shape saves 20% of the space required by a round bucket type toilet system. The complete system includes a 5.5 gal. tank, full sized comfortable seat with lid, washout kit for flushing, pressure relief vent, and buttress threaded, gasketed closures.
The system includes one 5.5 gallon tank, seat assembly, 3" cleanout hose and washout hose adapter.
The rotomolded plastic tank is crushproof. It has rounded corners for easy cleaning.
The tank dimensions are 17.0" x 7.5" x 13.5" tall.
It holds 5.5 gallons, good for approx. 50 uses
The comfortable toilet seat locks onto the tank.
The flange under the seat funnels waste into the tank.
At 17" above ground level, the seat is as high or higher than your home toilet.
The system meets all requirements of the BLM, NPS and USFS for a washable, reusable toilet.
It empties easily at an RV dump or in a Scat Machine.
Eco Safe - Complete Toilet System w Square Seat
Pacific River Supply
---
---