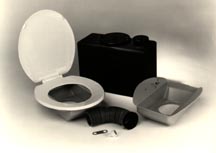 Eco Safe - Complete Toilet System
Regular: $ 235.95
On Sale! $ 215.95

Your choices are:
---
Eco Safe - Complete Toilet System
Many boating areas and government parks now require you to carry out human waste. Even for those that don't, the removal of waste products protects the environment. The ECO-Safe Toilet System excels as a highly portable, reusable system. The crushproof plastic tank is good for 50 uses at one time. The 1998 Mt. Everest Cleanup Project chose the ECO-Safe Toilet for use on their expedition.
The system includes one tank, seat assembly, 3" cleanout hose, washout hose adapter lid with plug and tool to remove plug and tighten hose adapter.
The rotomolded plastic tank has rounded corners for easy cleaning. The tank inner dimensions are 16.5" x 7" x 11" Tall. It holds 5.5 gallons, good for approx. 50 uses and fits inside a 20mm "rocket" box.
The comfortable toilet seat, with lid, locks onto the tank. The flange under the seat funnels waste into the tank. At 17" above ground level, the seat is as high or higher than your home toilet.
The system meets all requirements of the BLM, NPS and USFS for a washable, reusable toilet. It empties easily at an RV dump or in a Scat Machine. .
Eco Safe - Complete Toilet System
Pacific River Supply
---
---