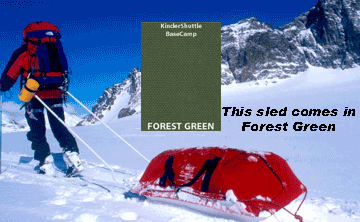 Base Camp Gear Sled XL
Regular: $ 749.00
On Sale! $ 699.00

Your choices are:
---
Base Camp Gear Sled XL
This sled is exactly the same as the Base Camp Sled except it is supersized. It is 14" longer, 18, 000 Cubic inches of storage, the poles are 6" longer and comes with a padded waist belt. It is designed for the military and not recommended for a person to pull uphill. This sled can be pulled by a snowmobile or by a snowkiter. If the gear you put in it is light, then a skier/snowshoer could pull this sled, but if you load it up, the weight will be tough to handle.
Exceptional side hill stability is just one of many reasons why we supply the military. The BaseCamp tracks true even in crusty, icy conditions, opening up more direct routes to your goals. Lets you weave safely through the timber or link turns on mile runs down the backside.
Our harness is fully adjustable front and rear allowing you to keep the poles at your sides where they belong no matter your waist size. It's flexible, strong, comfortable and completely dependable. Loops can be sewn directly to your pack waistband.
Your gear is carried in an 18,000 cu. In. Duffel Bag of 1,000 denier Dupont Cordura nylon. Two buckles and all your gear comes off the sled at once, together. Wide nylon straps make the whole sled backpack able for fording rivers, crossing pressure ridges, walking through airports.
Base Camp Gear Sled XL
Wilderness Engineering
---
---