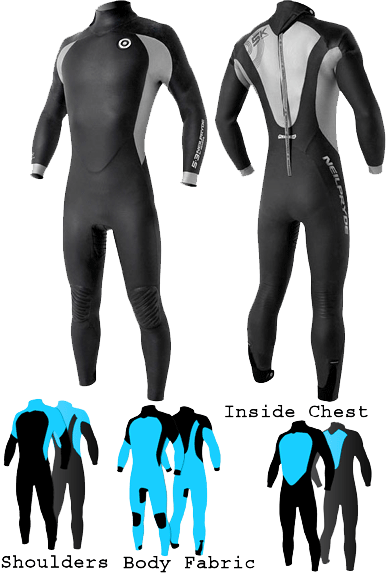 Semidry 5 4 3 Full Mens 5K Wetsuit
$ 426.00
Your choices are:
---
Semidry 5 4 3 Full Mens 5K Wetsuit
The 5K is the high-end full mesh wetsuit designed for windsurfers that demand the top gear for high performance riding. Optimum combination of highly flexible single lined neoprenes cutting wind-chill and keeping you warm and comfortable in the most extreme condition.
This wetsuit is great for Stand Up Paddling, Kiteboarding, and Windsurfing. What makes this wetsuit the best is that it does not have fabric on the outside of the wetsuit. Fabric on the outside of a wetsuit will hold some water when it gets wet, which when you are out of the water in the wind will lead to evaporative cooling. Evaporative cooling leads to heat loss, with the smooth rubber skin on this wetsuit, you will not loose this heat to the wind as the water sheets off the rubber.
Shoulder Fabric
Limestone based neoprene from Yamamoto Corporation, Japan. The smooth closed cell neoprene has a unique hydrophobic coating that makes it 95% water impermeable compared to 70% of the normal petroleum based neoprene, therefore it sheds off more water and quicker. Also compared to the standard petroleum based neoprene, S5 has a 23% higher closed cell ration that keeps you warmer by providing the maximum wind chill protection.
Main Body
Apex-Mesh neoprene is a sheet of neoprene that is heat sealed on one side only. The neoprene on the sealed side is called 'closed cell' neoprene and has a waterproof rubbery texture that cuts down wind-chill, making it popular among windsurfers and kitesurfers. Typically in black and now also available in various colors.
Inside body chest area
An ultra-lightweight inner lining comprised of a series of tubular, hollow yarns. The heatlock effectively traps and stores body heat within the cavity of the yarn, keeping you warmer and drier. An insulating, hollow fiber lining that effectively traps and reflects body heat.
Inside rest of body
Bamboo Charcoal is known for its inherent antimicrobial and anti-odor properties. This natural fiber is woven into our lining to provide hygiene benefits
Mens
Size Indication
Height
Chest
Waist
EURO
US
Ft/In
Cm
In
Cm
In
Cm
46
XS
5'6" - 5'8"
167-173
35-38
89-96
28-30
71-78
48
S
5'7" - 5'9"
171-177
37-40
94-101
30-32
76-83
94
ST
5'9" - 5'11"
175-181
37-40
94-101
30-32
76-83
50
M
5'9" - 5'11"
175-181
39-42
99-106
32-34
81-88
98
MT
5'11" - 6'1"
179-186
39-42
99-106
32-34
81-88
52
L
5'11" - 6'1"
179-186
41-44
103-110
34-36
86-93
102
LT
6'0" - 6'2"
183-189
41-44
103-110
34-36
86-93
54
XL
6'0" - 6'2"
183-189
43-46
108-115
36-38
91-98
106
XL
6'2" - 6'4"
187-193
43-46
108-115
36-38
91-98
56
XXL
6'1" - 6'3"
185-191
45-48
113-120
38-40
96-103
58
XXXL
6'2" - 6'4"
187-193
47-50
120-125
40-42
101-108
Semidry 5/4/3 Full Mens 5K Wetsuit
Nielpryde Wetsuits
---
---