Brainard Lake: Ward, Colorado
Main features:



Great Snowshoeing and ski touring! Great rolling hills. Trails through the woods and a main snow packed road.



Location: Brainard Lake is located just west of the Peak to Peak Highway just west of Ward and North of Nederland. Please see our Google map for driving directions. Brainard Lake is open year round. In the summer it is great for hiking and biking and in the winter it offers some of the best snowshoeing and ski touring around.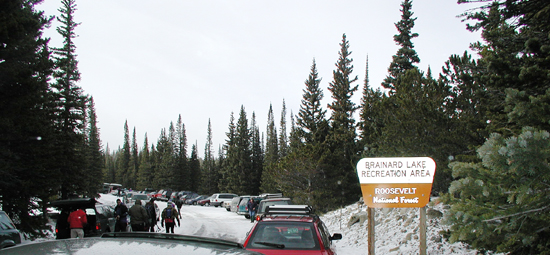 Description: Brainard Lake area is a great place to snowshoe or cross country ski because it does not have as much vertical as many areas in the Colorado Mountains. Most trails around Colorado climb for the entire trail until you decide to come down. Brainard Lake area climbs gradually to the West. There is a closed road that heads West out of the parking area. The road is usually windy and the snow wind blown, but there are trails on each side of the road that parallel the road that are great. There are also trails that travel North and South. You can head West from the parking area for about 2 miles before you start to climb more seriously into the Indian Peaks Wilderness Area.
Please keep in mind that many people do not follow trails in this area. You may be following snowshoe or ski tracks, but not be on a trail. It is fun to blaze your own trails, just keep in mind that people get lost in this area all the time. Because the area is rolling in nature, it can be difficult to know which direction is back to the parking area. Please bring a compass, GPS or both. If you depend on a GPS, please bring spare batteries and keep the batteries in an inside pocket so they stay warm.

Please note that certain trails are designated for skiers only, and to watch for signs to that effect posted in the area.