Colorado Hut Trips
Colorado has fantastic backcountry skiing and snowshoeing!

We have information on huts and yurts that you can rent and guided trips for those of you that would like the expertise of a guide. The Boulder Outdoor Center rents and sells the gear that you may need for exploring the backcountry. We are also building an online backcountry guide, have links to snow reports, avalanche conditions and to clinics and classes that will help you enjoy the backcountry.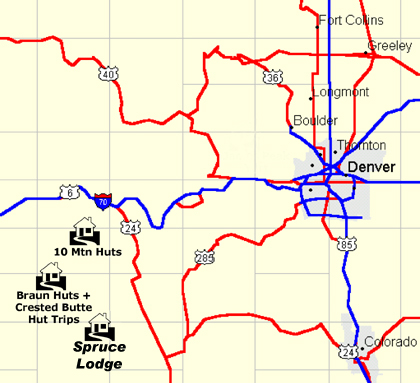 BOC links to backcountry huts, yurts, lodges, and lookout towers that can be rented.

San Juan Huts
970-626-3033
The San Juan Hut Systems ski route consists of five backcountry ski huts connecting Telluride, Ridgway and Ouray. The route follows the Dallas and Alder Creek Trails in the Mount Sneffels Range of the San Juan Mountains. Each hut can be individually accessed or advanced skiers can travel hut-to-hut in the European tradition. Above each hut there is more terrain for the more adventurous intermediate, advanced, and extreme 'powder hound.' These huts consist of five huts: Burn Hut, Ridgway Hut, Blue Lakes Hut, North Pole Hut, and the Last Dollar Hut.


Recreation.gov is a website run by the US government. This site has information on camping, huts, wilderness permits and more. You can even reserve campsites and government huts online.

Pike/San Isabel Forests cabins/huts
An opportunity on the Pike and San Isabel National Forests in Coloroado
PUEBLO, CO…The Pike/San Isabel National Forests, southwest of Denver, Colorado Springs and Pueblo in Colorado have offered recreational camping, picnicking and trail opportunities for nearly a century. Now some "old" treasures are available in a whole new way. Several historic cabins have been renovated and are available to adventure seekers as overnight rentals. Nightly rates range from $50 to $75. There are accommodations for 2 to 8 people, depending on the location. Each cabin is different, but they all offer solitude and a taste of the past. Many locations are even decorated with period furniture, have interpretive exhibits or are near other historic and educational places.

All Forest Service cabins for the Rocky Mountain Region:
Here you will find links to specific cabins and lookout towers being rented by the Forest Serice in Colorado and Wyoming.

10th Mountain Division Hut Association
10th Mountain manages a system of 29 backcountry huts in the Colorado Rocky Mountains, connected by 350 miles of suggested routes. These huts provide a unique opportunity for backcountry skiing, mountain biking, or hiking while staying in safe, comfortable shelters.

The 1Oth Mountain Huts
The name honors the men of 10th Mountain Division of the U.S. Army, who trained during World War II at Camp Hale in central Colorado. Hut visitors share the special spirit of these individuals, especially their pursuit of excellence, self reliance, and love of the outdoors.
The 10th Mountain Huts are: Peter Estin Hut, Gates Hut, Margy's Hut, and McNamara Hut. These links will take you to descriptions of the Huts. We have a more detailed 10th Mountain Hut Trip map.

Alfred Braun Hut System
The Alfred Braun Hut System is the oldest Hut system in Colorado. They are only open for Winter use (November through May). Routes to the huts are not marked and travel through avalanche-prone terrain. The Huts sleep up to 14 people and are rented to one group only per night, providing a more private experience. The Braun Huts and the Friends Hut connect the towns of Aspen and Crested Butte via the spectacular 12,705' Pearl Pass.
The Braun huts are: Friends Hut, and the Green Wilson Hut. These links will take you to descriptions of the Huts. We have a more detailed Braun Hut Trip map.

Vagabond Ranch Huts North of Granby Colorado in the Never Summer Mountains
This ranch has 3 huts, 3.8 miles in to ski or snowmobile to the huts. One hot tub, hot showers, groomed nordic trails and groomed snowmobile trails. If you want to rent or have snowmobiles and use them for your skiing/boarding, this is the place for you. More details at: Vagabond Ranch Huts.

Wolf Creek Backcountry Yurt in Southern Colorado
Pass Creek Yurt at 10,250 feet lies just below the Continental Divide. Everything is provided for your backcountry stay including cooking and eating utensils, beds with pillows, wood stove, and even hut shoes. Solar lights watch over evening activities and storytelling. You bring only food and a sleeping bag. More information at: Pass Creek Yurt.

Ophir Pass Ultimate Ski Hut Southern Colorado in the San Juan Mountains
The OPUS Hut is a solar powered solar heated backcountry lodge near Ophir pass in the Northern San Juan mountains of Colorado. Only 3 miles from the trailhead in the winter on the south slopes of 13,661 ft. Lookout Peak, the hut accesses terrain of all difficulty levels. Great beginner terrain out the back door, and endless options for high touring and challenging descents in all directions. The hut has sleeping spaces for sixteen in five rooms, indoor plumbing and composting toilets, a full kitchen and two living areas each with its own wood burning stove. Reserve the whole hut or individual spaces. More information at: Opus Hut.

The Observatory at Alta Lakes near Telluride, Colorado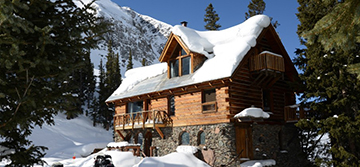 The Observatory is a private and most certainly unique backcountry cabin located 13 miles from Telluride, Colorado. It is one of only a few homes in the United States at 11,000+ feet! The Observatory is nestled underneath the 13,000-foot Palmyra and Silver Peaks of the San Juan Mountains and is adjacent to the Telluride ski area. Access is 5 miles of road, summer you can drive or hike, winter you can snowmobile or snowshoe/ski tour in. Indoor plumbing, hot tub, fully furnished kitchen, 2 bedrooms plus a sleeping loft. More information at: The Observatory.
---