Canoe Trips
Gear List
What to Bring
* Rentals Available, (please see rates below)

| | |
| --- | --- |
| Day trips | Multi-day trips |
| Day Backpack or Fanny Pack | Tent* |
| Swimsuit & Shorts (quick drying are best) | Sleeping Bag* |
| Sun Hat | Mattress Pad* |
| Tennies or Secure Sandals for on the River | Camp Chair* |
| Shoes while in camp | Personal Toiletries including Bio-Degradable Soap & Towel |
| T-shirts | Flashlight |
| Jacket | Small First Aid Kit (guides will have a comprehensive kit) |
| Long Pants & Shirt (quick drying are best) | |
| Moisture Wicking Socks or Wool Socks | |
| Spare Car Keys | |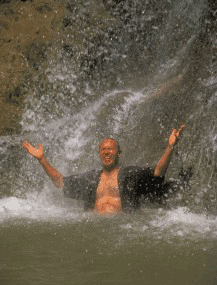 Items to Keep Accessible in Your Day Pack
Refillable Water Bottle (we will provide the water)
Sunscreen
Rain Gear
Insect Repellent
Sunglasses with Strap
Snacks (optional)

Optional
Camera/Film (recommend inexpensive or disposable camera)
Binoculars
Pocketknife
Hiking Boots
Water Blaster (keep accessible at all times!)
Soda Pop
Alcoholic Beverages*
Medium-Size Cooler: 24-28 qt. (use ice blocks - not cubes!)
Garbage & Zip Lock Bags (provides extra waterproof protection for your gear)
Musical Instrument*
Bandanna

Don't Bring
Jewelry
Pets
Firearms or Fireworks

What Centennial Canoe Company Provides:
Chemically Treated Porta-Potty & Privacy Tent
Boats / Paddles / Lifejackets
All Meals from Breakfast on First Day through Lunch on Last Day
Complimentary Wine with Dinner
Drinking Water & Lemonade
First Aid Kit
1 Dry Bag/Person for Your Gear (3.8 cu. ft.: 16" diameter x 33" tall)
Rescue Equipment
All Kitchen Gear
Fire Pan for Campfires & Cooking
---
Equipment Rental for your canoe trip
Centennial Canoes has camping equipment for rent. Please call to check on availability.
For a private canoe trip, please see our Canoe Rentals.

Reservations must be made one week prior to departure date.
Credit card required for damage deposit.
Camping gear rented for one of our commercial trips will be available at the first breakfast.
| Equipment | Rental Rates for 1 Trip | Replacement Cost for Lost or Damaged Items |
| --- | --- | --- |
| 1-2 person tents | $28 | $75 |
| Sleeping bag | $21 | $28 |
| Thermarest mattress pad | $15 | $70 |
| Camp chair | $10 | $18 |
Trip Details: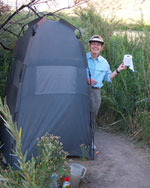 Personal Hygiene
We provide an enclosed portable bathroom facility on all trips because we understand that personal comfort and privacy are important in the backcountry. Your guides will make every effort to make you feel at home. The river provides a great opportunity for bathing after a long day on the river. Please bring your biodegradable soap and towel.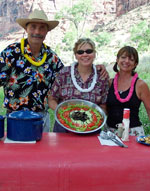 Meals
On multi-day trips, feast on shrimp hors d'oeuvres, wine and cheese after setting up camp in the afternoon. A varied menu may include salmon fillets, barbequed ribs, fresh salad, rice and pie for dinner. If you have special dietary needs, we encourage you to bring the foods that you require in a cooler and we will be glad to cook them for you. On the 1-day trips, the lunch may include appetizers, croissant deli sandwiches, potato salad, fruit and cookies.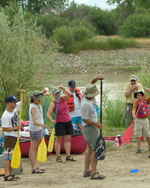 Safety & Paddle Instructions
No previous canoeing or sea kayaking experience is necessary for most of our trips. Basic paddle strokes and safety procedures will be taught the first morning at the river put-in and thereafter as needed. For our more advanced rivers (Dolores), we recommend 1 experienced paddler per boat & children be at least 13 years old.