Berthoud Pass, Colorado
Awesome backcountry skiing and boarding

Berthoud Pass ski area is now closed. The lifts have been removed and the base lodge is being removed. What is left are fantastic runs for the backcountry enthusiasts. Berthoud Pass ski area opened in 1937 and held a a reputation for premiere backcountry skiing and snowboarding. The area offers an experience that is comparable to snowcat and helicopter skiing. Half of the ski area was designated as advanced or expert. More than 65 trails on 1,200 acres of terrain. Some runs can be done right off of the pass, but most runs require some hiking up the mountain. Many runs end up below the pass requiring a vehicle shuttle back to the pass.


Warning!!!

This old ski area does not have a ski patrol, it does not have avalanche control, it does attract backcountry skiers, some of whom do not know very much about avalanches. Please do not ski this area without the proper gear and knowledge. Do not imitate other skiers, as they may have been lucky that a slope did not slide, and you may not be so lucky. Please be prepared before you play on Berthoud Pass.
The runs rated easy and more difficult are less prone to avalanche danger than most difficult and can be great for intermediate skiers/boarders.
You can view Berthoud Summit Hourly Weather Report from the Berthoud pass weather station.
Use this link to see a current image of the Berthoud Pass Parking area: Berthoud Pass Parking
Use this link to see a current image of the Berthoud Pass Highway looking North: Berthoud Pass Looking North


Vertical rise: 1,530 ft.
Terrain: 1,200 skiable acres
Number of trails: 65
Longest run: Skull Bite, .75 miles
Trails:


Easiest - 20%


More difficult - 30%


Most difficult - 40%


Expert - 45%
Annual snowfall: 500 inches
Lifts: None
Base elevation: 11,307 ft.
Summit elevation: 12,240 ft.
Region: North Central
Location: 65 miles west of Denver on highway 40, before you get to Winter Park Resort.
We have the old ski trail maps here online. Please see our links on the right side.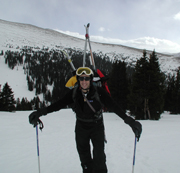 Eric Bader father of skiers pictured above climbs the old Berthoud Ski Area.
Avalanchemapping.org with a great deal of work by Douglas Scott has overlaid the avalanche slide paths for Berthoud Pass and other backcountry areas. This is great reference data to arm you with additional information for this area. It is not complete and is not a subsitute for your backcountry knowledge and skill.

Click here to see the Avalanche Safety Gear that we recommend you own for safer backcountry travel.