River Guide
South Platte: Brighton City Park to Ft. Lupton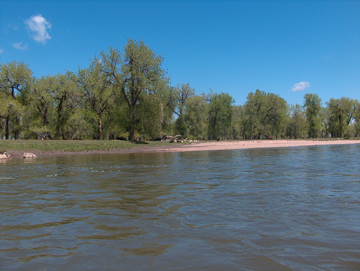 Length of Trip: 9 miles (note: at low flows this trip will take a while)
Gradient: 20ft/mile
Difficulty: Class I-I+ at 200+ CFS with one portage river right
High Water Flows: May-July, boatable year-round.
Flow: Call Watertalk @ 831-7135, Division 1, Station 48 for current river levels at the take out or click here.
Scenery: C+ There are many birds, cotton wood trees, and other wildlife. Hwy 85 is not very far from the river, so you can hear vehicles at times, and manmade debri can be found in and along the river. The views of the Rockies and the wildlife help offset the debri and the highway to make this an enjoyable run.
Put-In: North of Denver, take Rt. 7 East from I-25 for 8.4 miles, to Veterans Park on the north side.

Take-out: From the put-in, go East on Rt. 7 for .4 miles, north on Hwy. 85 for 6.2 miles to 52 West (Dacona) exit. Go west on 52 for .1 mile to the bridge over the river. This is the take-out.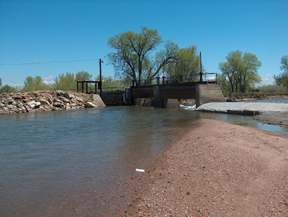 Description: This run is a great first time river experience for all kinds of river boats and first time river runners. The river is mostly flat with current. At higher flows, the current will pick up speed, but the river difficulty will not change until the river is over its banks in flood. This run does have its river hazards to be aware of. There are many strainers, (giant cotton wood trees in the river) bridge abutments, fences along the shore and into the water, cement blocks on the banks and into the water, pieces of steel, all with debri piled up on them, and one dam in the middle of the run. The dam is relatively easy to spot, as on river left is a cement wall, in the middle of the river is a large rock monolith, and the dam goes between these items. At high water, the velocity of the river will bring upon this dam much more quickly, making spotting the dam and portage more challenging. Portage river right, at high water there is a barb wire fence that reaches the water. This dam has been run, but the difficulty will vary with water levels, and debri could be caught in the dam. Always scout this drop, as the debri will change any runnable spot from day to day. Dams are much more dangerous than there river running difficulty, so please portage.

Even with all these hazards, this run is still a good run for beginners, you just need to be a little careful. The water is warm compared to other rivers in Colorado, there are eddies to catch, small waves to surf, and a meandering channel to find in the river bed. There are sand beaches to enjoy and camping spots among the cotton woods. There are small islands, and shoals to maneuver around, with lots of wildlife in and along the river. Depending on the time of year, you can expect to see: Great Blue Herons, Whooping Cranes, King Fishers, Turtles up to 18" across, Ducks, Muskrats, and much more.

Great for kayaks, canoes, rafts, duckies, sea kayaks, and most any other boat that can be run down rivers.
Images by Daniel Cota, thank you!