Park and Play Boating, fate is unknown
Lyons Playpark, (due to the flooding in the fall of 2013, this park was washed out)
Saint Vrain River, Lyons Colorado
Location: The whitewater park is located in Meadow Park.
From Boulder take Hwy. 36 north to Lyons. Turn left on Hwy. 66, go through Lyons. Take a left on Hwy. 7 on the West side of Lyons, then a right into Meadow Park. The Sandstone rock pictured to the left is the park entrance. Please see our map. Our map is downloadable in pdf format and we have a map that can be loaded onto a Garmin GPS.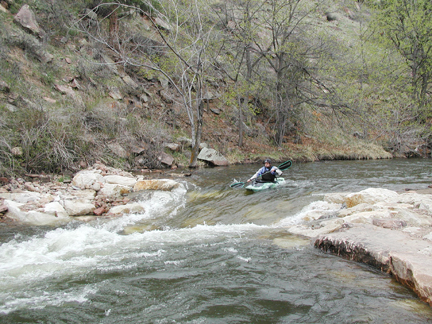 Description: The whitewater park in Lyons is new as of 2003. There are bathrooms, a ballfield, horseshoes and boating. The Saint Vrain River is a small front range river. The drop structures are spread out more than other local playparks leaving nice big pools and eddies. This playpark is easier than Boulder Creek and the Golden Playpark making it a better choice for the novice boater. The drops are at different angles/slopes lending to a variety of water features and waves. Currently there are not any gates set up. With all the trees around this course, temporary gates will not be a problem. The best rodeo hole is 1/2 mile below the actual playpark. It is just downstream of a foot bridge and is pictured to the left.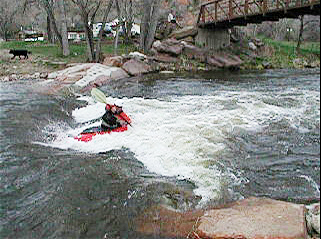 Please mouse over this picture. This dropstructure is just east of town and can be a take-out for the Playpark. It is about 1/2 mile below the park.