Park and Play Boating
Durango Playpark
Animas River, Durango, Colorado
Location: The Durango play park is located in the town of Durango and starts at the Santa Rita Park and goes to just behind Four Corners River Sprorts. Please see our map for directions. Our map is downloadable in pdf format and we have a map that can be loaded onto a Garmin GPS.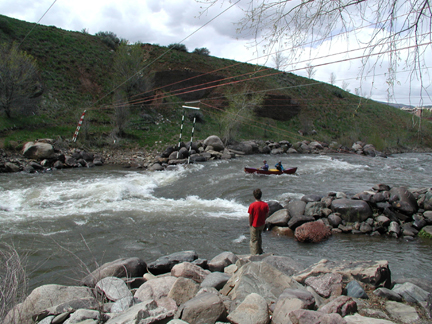 Description: This park consists of multiply holes and waves that change with water flows. The canoists above are at the top of the run. Just below this wave is the Smelter Wave/hole which was changed and seems to be not as good as it used to be. The third wave/hole is Corner Pocket. Corner Pocket gets really good at 2,200cfs and up. The flow in these pictures is around 1,800cfs. depending on water levels. The Animas River has a good size drainage and can flow as high as 7,000 cfs. For water levels, you can click here.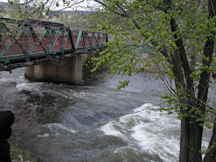 The Santa Rita hole pictured above becomes a very large wave/hole at about 2,500 cfs and up. This water feature is about 100 yards below the Santa Rita Park. This wave/hole is natural and is the original spot for the Durango hole riding contests.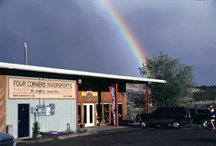 The Big Kahuna wave is down by the take-out behind Four Corners River Sports. The folks at Four Corners River Sports are always happy to help direct you if you need any beta on this section.