Horsetooth Reservoir: Fort Collins, Colorado
Location
Horsetooth Reservoir is located West of Fort Collins. From I-25 you take the Harmony Exit, and head west on Harmony to 287. Take a right on 287, North, then left on Omega, West, then left on Taft, South. Your next right will be the Horsetooth Reservoir access road. Horsetooth Reservoir is open year round. Park Entrance Permits and Camping Fees are required. Please see our map. Our map is downloadable in pdf format and we have a map that can be loaded onto a Garmin GPS.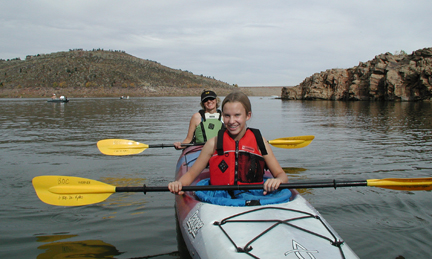 Description
Located in the foothills west of Fort Collins Horsetooth Reservoir is 1,900 acres of water surrounded by 2,000 acres of public land. In addition to kayaking, this lake is great for fishing, boating, water-skiing, and camping. This 6.5-mile long reservoir is open year round and is a part of the Colorado-Big Thompson Project operated by the Bureau of Reclamation and the Northern Colorado Water Conservancy District. The purpose of this water project is to divert water from the west slope to the east slope for drinking water, irrigation, and hydropower generation. The Bureau of Reclamation is solely responsible for power generation. The agencies jointly manage water levels for irrigation, municipal and industry use.
Recreation is managed by Larimer County Parks and Open Lands.
Please See: http://www.co.larimer.co.us/parks/Horsetooth.htm

The information below is from the Larimer County Parks web page.
Concessionaires
Inlet Bay Marina (970-223-0140) - full service marina located in Inlet Bay.
The Cordova's Horsetooth Lighthouse (970-223-3922) - restaurant and lounge, located in the South Bay.



Boating


Direction of travel is counter-clockwise.
Call the Horsetooth Reservoir Hotline at 970-679-4554 for current conditions.
State law requires boat and jet ski operators to be 16 years of age or older. (14-16 year olds may take a boating safety course for a driving certificate - contact a park ranger for more info)
Water-skiing is best early mornings and evenings during the week.
Water-skiers must have an observer and use a red or orange flag.
Personal water crafts (jet skis, wave runners) must observe state laws - NO careless and improper operation, including:
Operating a vessel while facing backward.
Becoming airborne while crossing a wake too close to another vessel.
Unsafe weaving through boat traffic.
Causing another boat to swerve or abruptly cut speed to avoid a collision.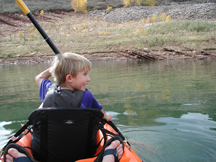 Camping
Electrical, non-electrical, tent.
Campground hosts on duty during the summer.
Reservations are usually needed on weekends and holidays May - October. You can reserve sites at Horsetooth Reservoir, Carter Lake, and Flatiron Reservoir. Pinewood Lake is first-come, first-served.
A permit to camp is required for each campsite for each night (in addition to Park Entrance Permits).
Maximum of 14 nights in any 30-day period.
Park Entrance Permits
Required of all visitors (including walk-in and bike-in).
Valid at Horsetooth Reservoir, Horsetooth Mountain Park, Carter Lake, Pinewood Reservoir, Flatiron Reservoir, and Ramsay-Shockey Open Space.
Annual Park Entrance Permits (valid for the calendar year) are available at The Bison Visitor Center, at entrance stations prior to entering the park, at the Citizen Information Center, at nearby retail outlets, and online.
Daily Park Entrance Permits (valid from day of purchase until noon the next day) are available at The Bison Visitor Center and at entrance stations and self-service stations prior to entering the parks and open lands.
Fishing
No ice fishing - ice is UNSAFE due to fluctuating water levels.
Horsetooth provides a wide variety of fishing opportunities. This large reservoir has excellent structure for anglers to explore. Whether you pursue fish from shore or from a boat, you will have a wide variety of angling opportunities.
Water Levels
Water levels fluctuate. Horsetooth Reservoir generally fills during the winter and spring. It normally fluctuates up to 60 feet, with the lowest water being in mid September, excluding drought and excessive rain years.
Tips and Info
Weekdays during the summer - plenty of room for both camping and boating.
Weekends during the summer - capacity is usually reached.
Firewood can be purchased at adjacent stores (no firewood collection allowed in the parks).

General Regulations
For specifics, ask a ranger for a copy of the Regulations Brochure.
Life preservers of the appropriate sizing are required for each person on a boat. In addition, a Type IV throwable PFD is required on boats longer than 16 feet. They must be worn by children at all times.
Boat travel direction - counter clockwise.
An observer (in addition to the driver) must be on the boat during water-skiing activity.
Swimming is prohibited except at the swim beach in South Bay. Days & hours of operation may vary. Call 970-679-4570 for current hours.
Cliff diving/or jumping in the water is extremely dangerous and prohibited in all areas.
Quiet hours are 10 PM to 6 AM.
Collection of firewood, including cutting of trees and branches is not allowed.
Firearms or fireworks are prohibited.
Glass containers are not allowed.
Public consumption of alcohol above 3.2% is prohibited (no kegs allowed).
Dogs must be on leashes not longer than 10 feet at all times. Dogs are not allowed at the swim beach.
Due to Homeland Security restrictions, no recreation activity is allowed on dams or within 100 feet of dams when on land.