Gross Reservoir
Boulder, Colorado
Owned and Operated by Denver Water
Recreation Manager – Denver Water - eastside manager
Roosevelt National Forest – Boulder District - west side manager

Gross Reservoir is open to non-motorized car-top boats starting on Memorial Day through Sept. 30th.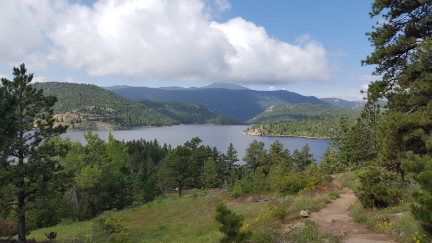 Description
This is a fantastic high mountain lake. Gross Reservoir is free to the public, has fishing, hiking, picnicking, camping and paddling. We suggest you try a touring boat or two and tour this lake. There are fingers of the lake to explore and to disappear into. For more information on activities, please see: The Denver Water Board Recreational Information website.

Covid-19
Bring a face covering. Boulder County public health order requires face coverings when six feet of social distancing cannot be maintained.
Maintain at least 6 feet of distance between yourself and others not from the same household.
Keep your group to a small number – less than 10 is ideal.
Do not clog or congregate by the water or in parking lots. Please unload your watercraft, safely park your vehicle and launch into the water.
Bring hand sanitizer or items to wash your hands to ensure proper hygiene.
Avoid recreating at peak times; parks, trails and other facilities are generally less crowded in the early morning.

Getting There
Take Hwy 93 north from Golden to Hwy 72. Turn left (west) on Hwy 72 toward Pinecliffe to County Road 85. Follow County Road 85, which turns into western Gross Dam Road. It will take you to both the north and south access points. To reach the dam from Boulder, take Flagstaff Road west until it turns into eastern Gross Dam Road. You can see our map online on how to get to Gross Res.

Open year round, (except for boating)
Operating Hours: one half hour before sunrise to half an hour after sunset. West side USFS closure Late Fall Early Spring Check with the USFS Boulder District for closure dates. This lake is open for boating from the Friday of Memorial Day to Sept. 30th.

Plans for Gross Reservoir that effect all recreational use.
Recreational use may be closed for 3-4 years for expanding this reservoir. Please see: https://grossreservoir.org for more informtion from the Denver Water Board.
There is a group that is oposing this project: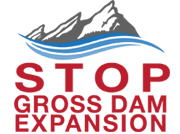 From Save Boulder County: Just 11 miles from downtown Boulder, Denver Water proposes to enlarge the current Gross Dam, resulting in the biggest and most environmentally damaging construction project in the history of Boulder County.

Fishing
Cold water fishing; stocked by Colorado Division of Wildlife. Ice fishing is allowed at your own risk in the winter.

Picnicking
The east side developed areas are for day use only. Sheltered tables are available.

Hiking
Access to the reservoir from North Point picnic area, South Shore Recreation Area trailhead to South Boulder Creek Inlet.

Camping
Limited access. High clearance vehicles required. West side managed by Roosevelt National Forest. Area has seasonal closure; check with Boulder District. Usually open for Memorial Day through until the first snowfall in the fall. There is not a fee or reservation for camping on the west side of the lake, access by a rough dirt road on the west side. Maps may show access from the East Side on Lake Shore Drive, but this access is blocked. The turn off of Magnolia is CO Hwy 68 to FS Road 359. You can use Google Maps to see the camping area.
No contact with water. Swimming, wading, scuba diving or other water activities are not allowed on the reservoir. You must stay on top of the water like kayaking, canoeing, in the winter ski touring or ice skating. On ice activities are legal and at your own risk. Strong winds blow across the reservoir, so on ice activites are not ideal.

Phone Numbers
Denver Water – 303-628-6000 (owns the water)
Colorado Division of Wildlife – 303-291-7227 (for fishing info)
USFS Boulder District – 303-541-2500 (West side of the lake, including camping)
Boulder Sheriff – 303-441-1500

A note from the Denver Water Board
Named for Denver Water former Chief Engineer Dwight D. Gross, the reservoir was completed in 1954. It serves as a combination storage and regulating facility for water that flows under the Continental Divide through the Moffat Tunnel. Standing 340 feet above the South Boulder Creek streambed, Gross Dam contains some 627,559 cubic yards of concrete. Gross Reservoir has a surface area of 440 acres and 10.9 miles of shoreline.