Boulder Reservoir: Boulder, Colorado
Location
Boulder Reservoir is located just north of Boulder. Head Northeast on the Diagonal Highway then west on Jay Road, your first right on 51st. will take you to the entrance. In the upper right hand corner of this page, you can enter your location or a point that you know of and hit enter and google maps will open and show you a map to the meeting location and driving time. You can also use our Boulder Reservoir Map.

General Information
Boulder Reservoir is open year round. Lifeguards and lake patrol are only on duty during the Summer. There is someone at the entrance gate year round with the exception of some holidays. The hours on the gates have been changing, so please see the Boulder Reservoir website. If the gate is closed, you can still park outside the gate and walk in. You can only walk into the reservoir area in the off season for free. The city of Boulder charges a fee at the gate when the reservoir is open.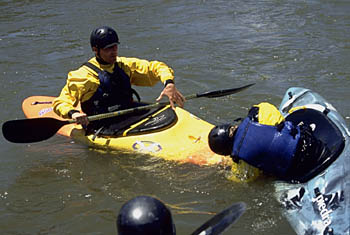 Description
Boulder Reservoir is a wonderful place to paddle. The water is clean, there are sand beaches all along the South shore. There are playgrounds, floating platforms to relax on, and lots of sun. There are motor boats that use this reservoir. Sailboats may be rented. The City of Boulder rents out areas of the Reservoir to private parties, so you may not always have run of the entire area. There is a food consession above the swimming area that is open for the summer. Early and late season, there are times when the entire reservoir is rented to an event. At these times gate fees may be much higher. There may be some great bands playing out there too.

Classes that you can book through the Boulder Outdoor Center that are at Boulder Reservoir
We offer kayak lessons and Stand up Paddling Lessons out on Boulder Reservoir. We also offer Sea Kayaking Lessons at Chatfield Reservoir. If you see some of us out on Boulder Reservoir Kayaking, Supping, or Kite Boarding, please come by and say hello. Kite boarding lessons are not offered on Boulder Reservoir because the wind is too gusty. This lake is an expert kiteboarding area only.

Contact for Boulder Reservoir
5565 51st St, Boulder
www.boulderrez.org
(303) 441-3461

Gate Fee
$3.75/Youths ages 3-18, $4.25 Seniors 60+, $6.25/adults or have a Season Pass.