Skyline Drive Snow Kiting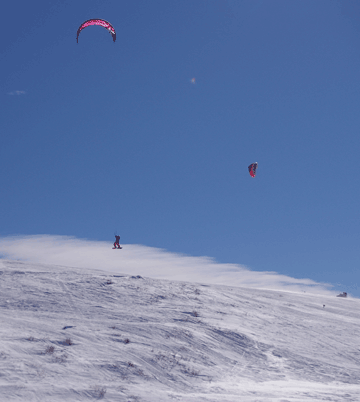 Fairview, Utah

This is the Mecca for Kiters
What makes kiting at Skyline the best in the US is the combination of awesome snow, great wind, fun terrain, and the friendly people. Utah is famous for it's huge amounts of snow, annual snowfall at Skyline is 700" and its' dry snow spells powder. Skyline is located in the Wasatch Mountains around 10,000 feet in elevation. The summit is mostly rolling hills providing great kiting terrain without the rock cliffs. There are cornices and steep terrain off of the ridge to be wary of, but the main kiting area is Bosco's Ridge which is lower angle and faces the predominant wind out of the Northwest. Bosco's Ridge is named after Brian from Ozone kites, it was his nickname when he was a kid.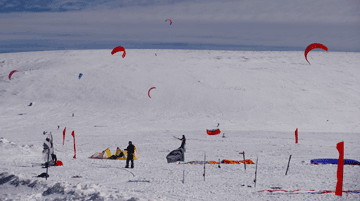 "Kite launching area with Bosco's Ridge is in the background"

What makes Kiting Skyline so great?
The kiters and the locals really put the icing on the cake when it comes to making this place great. The local hotel has a map they hand out to kiters to make sure they can find the kite launch area. The home cooking at the restaurant Home Plate Café across the street from the motel has good food and the locals there are quite friendly. They share the newspaper with you, and have great service. Then when you get to the kiting area at Skyline, the kiters are both friendly and helpful. In many sports, the people that are good at the sport do not want to be bothered by out of towners and beginners. This place can absorb lots of kiters because it is so big, and the experts in kiting here have set a great atmosphere. I blame this on the folks from Ozone Kites, Heather and Brian, as they discovered this area for kiters and they are out kiting in this area often. They are both friendly and helpful. If you decide to kite at Skyline, please help contribute to the friendly atmosphere, help other kiters launch, land and untangle kites. Please do not abuse the local kiters friendliness by trying to get free kiting lessons from them.

Fairview is a small town:
I found one weird item in this sleepy town, in that if the Air Raid sirens go off, you do not need to panic or head for the air raid shelter. To summon the local volunteer firefighters, they use air raid sirens. Fortunately emergencies are not common in this little town, so you are not likely to even hear the sirens. Utah was settled by Mormons, which makes finding alcohol difficult. I suggest bringing your own, but if you need more, the chevron gas station has beer.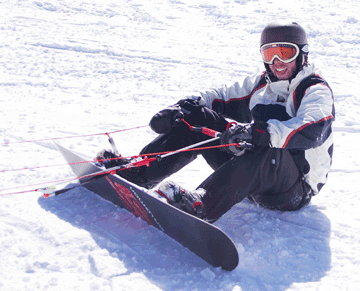 "Lucas Ainsworth taking a short break from kiting"

Too much wind for skyline?
Electric Lake is another area that can be kited if clouds/snow conditions prevent reasonable visibility up on the ridge where most of the kiting goes on. You need more wind on skyline to make Electric Lake work for kiting. Electric Lake is down in a small valley that does not get as much wind as the skyline ridge.

Other things to do:
This area does allow snowmobiles. Snowmobiles can be both a benefit and a problem for kiters. Be careful of snowmobiles that are not familiar with kiting, as they may not give you the distance you would like, and they may not know about your strings being laid out near your kite leading to strings being run over. I suggest that you wind up your strings when you take a break from your kiting. Many of the snowmobilers are kiters or are familiar with kiters and they can be helpful. There is also back country skiing, and a terrain park that you pass on the way up to the kiting area. You can car shuttle the terrain park to get lots of laps in.

How to get to the Snow Kiting at Skyline Utah
Click on this link to go to Googlemaps: Skyline Snowkiting Map. From I-70 in Utah, head north on Hwy 89 into Fairview, then east on 31 toward Huntington. The launch area will be on your right up on the ridge. From Provo, Utah and Highway 15, head south on hwy 15, then southeast on Hwy 6, then south on Hwy 89 to Fairview, then left, east on 31. The parking/launch site is at Mile Marker 14.

GPS Location
North 39 36.881
West 111 18.253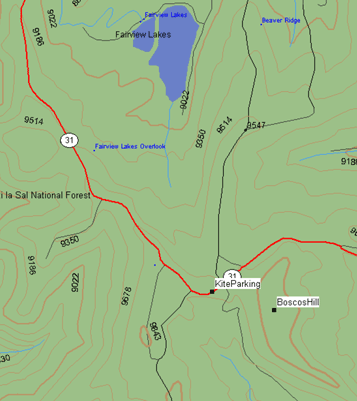 Skyline Weather
Oak Creek Weather Station weather.
Please note that if the wind gauge is working here it is behind the ridge
NOAA weather for Skyline
NOAA has a great map of Utah that you can use to see temperatures, wind + direction, snowfall etc. Give it a try, it is pretty cool. NOAA Graphical Weather Forecast
Hwy 31 Live Web Cam just North of Skyline. (Lat/Long location of web cam is: 39.63600 -111.32910